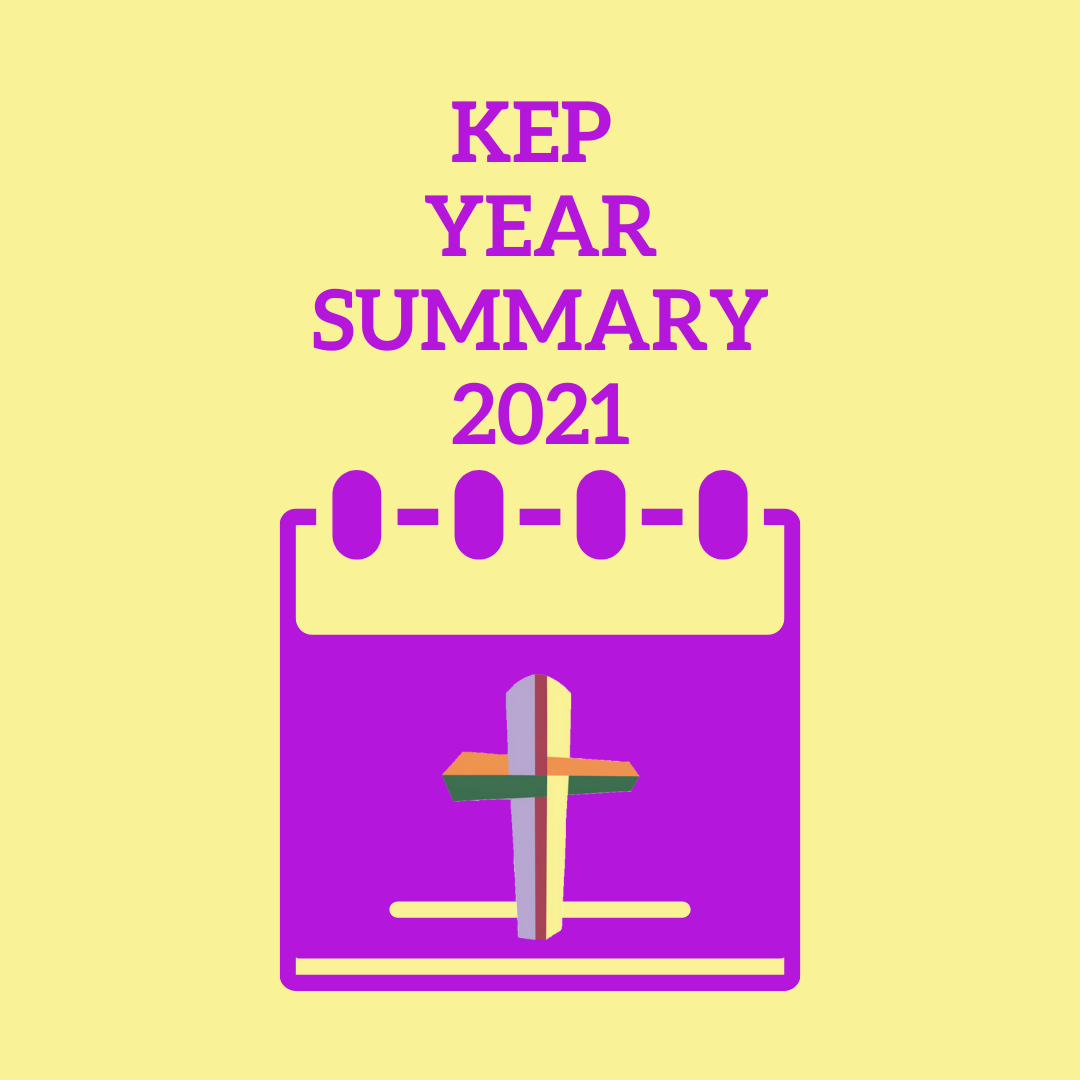 January:
Restriction were in place with church access limited. We continued with our online provision using zoom.
A Faculty application was applied for to replace the windows and corrugated cladding on the NW wall of St. Chad's Church Hall.
The clergy released two letters regarding restrictions and the national lockdown.
February:
On Ash Wednesday (17th February 2021) there was two services to mark the beginning of Lent. In the morning (10:00am) we used wording from the Book of Common Prayer (1662); in the evening (7:30pm) wording was from the Common Worship (2000). The services were online, via Zoom, and both used bread and wine as visual aids to help us remember the death of Jesus on the cross; both services also used ashes as a symbol of our penitence and reception of forgiveness through Jesus.
The Parish of Kidderminster East Lent course took place, covering topics including: Session 1. Why Bother? Why should we read the Bible anyway? Session 2. An overview of the Bible, its different themes and genre. Session 3. God speaks to us in revelation of himself. Session 4. God speaks to us in relationship Session 5. So what? How do we get the most from the Bible?
The clergy released another letter regarding the impact of Covid-19 restrictions.
March/April:
The clergy wrote a letter regarding the Easter reopening.
Easter was celebrated differently, with Zoom services, prayer meetings, homegroups, DCCs, PCCs, as well as a myriad of other events which happened within our parish. This was thanks to so many people pulling together and working together for God and for His glory. The services included: Maundy Thursday Holy Communion ay St George's, Good Friday services at St Cassian's and St Chad's, and Easter Sunday services in St Cassian's and St George's and also online via Zoom.
HRH Prince Phillip, Duke of Edinburgh passed away on Friday 9th April 2021. St Cassian's and St George's open their doors for people to go and pray/light a candle.
May:
We joined the global wave of prayer calling all Christians to pray between Ascension and Pentecost for more people to come to know Jesus Christ. As a Parish, we joined the Call to Prayer with the Ascension Day Service of Holy Communion at St George's Church at 10am (Thursday 13th May) and with the online Parish Prayer on Wednesday 12th May.
The Meeting of Parishioners (for all in the parish) and Annual Parochial Church Meeting APCM (for all on the Parish Electoral Roll) took place on Monday 24th May in St George's Church, Kidderminister at 7:30pm.
June:
The Archdeacon conducted his annual Visitation on 10th/11th June when all churchwardens in the new Deanery of Kidderminster and Stourport had the opportunity to discuss issues with him on a one-to-one basis. There was also be a Service of Admission, attended by all churchwardens in the deanery, when they were recommissioned as wardens for the year ahead. The service took place at St George's Church, Radford Avenue, at 7:00pm on Thursday 10th June.
We said a massive Thank you to all of the volunteers who help, support and enable the Parish of Kidderminster East to share the word of God.
Cafe Chad re-opened on Wednesday 30th June, at 9:15am.
July:
19th July was 'freedom day' where lockdown restrictions were lifted.
Our Summer KEP@ThePark picnics returned on: 25th July – Forester Park, 8th August – Spennells Valley Nature Reserve, and 22nd August – St George's Park.
August:
St. Chad's Church hall on Comberton received a £17,000 grant to refurbish the side wall of the hall from Biffa Award. The side wall was a single block wall with cladding and no insulation and the windows are single glazed with metal frames, dating from when the original building was built in 1956. Work should reduce heating costs and make the hall much more comfortable for hall users from the community, in the winter months. Thank you Biffa for the grant!
The clergy wrote a pastoral letter to the parishioners regarding the lifting of Coronavirus restrictions.
The final Zoom 11am Sunday service took place at 11:00am on Sunday 22nd August, and there was an opportunity to say a Thank you and Au revoir. This served so many people so well over the months of the pandemic and we didn't want to let its closing go by unnoticed, but rather, wanted to give people the opportunity to meet for a final time to thank God for this particular service.
The parish opened the KEP Bereavement Cafe, Life after Loss for anyone going through the loss of a loved one and would like to meet informally with others in a similar situation. The group met every third Monday afternoon a month, starting on 23rd August 2021 at St Cecilia's Church Hall, from 2-3pm.
There was a United Deanery Service at St Michael's and All Angel's, Great Witley, Britain's finest Baroque church, 10:00am, on Sunday 29th August.
St Cassian's held a Service of Reflection and Recovery on Thursday 29th July at 6:30pm. The service was an opportunity to begin to process the past 18 months by remembering, reflecting and hoping for the future. They sang hymns and Taiz chants once more.
September:
Cafe Chad, Homegroups, Share and Care, St George's Coffee Shop, St George's Pop-Up Cafe, Stone Corner Cafe, and Young at Heart reopened following the easing of Covid-19 restrictions.
St Cassian's was open from 2pm-4pm on Sunday 5th September for visitors interested in learning more about the heritage of the beautiful Grade 1 listed building. Guided tours were available.
There was a Songs of Praise service on 5th September at St George's followed by a celebration two course carved buffet lunch
The Worcester & Dudley Historic Churches Ride & Stride event was on Saturday 11th September.
As we gradually returned to life without so many restrictions, St Mary's, Stone depicted images of hope in words and pictures. This was to recognise the emotional impact that COVID 19 has had on us. The event took place on Saturday 11th September from 10:30am – 3:00pm. Light refreshments were also available in the Parish Rooms. This proved so popular that it was left up for a while longer.
St Cassian's had a Church Fete on Saturday 11th September, from 1pm – 3pm. There was a cake stall, tombola, games, lucky dip, bric-a-brac, local crafts, hamper game and more!
There was a service for the World Day of Prayer on Thursday 16th September, 10:30am, at St. George's Church, Radford Avenue.
St George's was open for visitors on Saturday 18th and Sunday 19th September for heritage open day weekend.
Following a successful indoor picnic after the service at St Cecilia's on 26th September, a decision was made to hold this event again on the second Sunday of each month, starting in November. Everyone was encouraged to bring their own picnic and join us as we ate and chat together after the services. No fear of rain, no fear of cold, no fear of wasps, just pleasant company joining together in friendship and fellowship. This initiative will be continuing in 2022, watch out for dates.
Together@KEP was create as a monthly opportunity to worship. This initiative started in September and continues now. It is held on zoom and is open to all of the churches in the Parish of Kidderminster East. We meet for worship, teaching and fellowship through the online medium of Zoom.
On Sunday 26th September, St Cassian's held two harvest services one at 9:30am, and a Songs of Praise service at 6:30pm followed by a bring and share supper.
October:
November:
As we approached Remembrance Sunday we thought of all those who gave their lives for the freedom of others and prayed that wars may cease between all peoples and the peace of Christ may spread through the world. The services times on Remembrance Sunday were: St Cassian's – 10:00am, St Cecilia's – 10:55am, St George's – 10:55am, and St Mary's, Stone – 10:55am.
December:
St Chad's hall building work was completed! The hall is now smarter, brighter and warmer thanks to the Biffa Award grant! Click here to view the pictures.
Café Chad reopened again for coffee/ tea and cake after the completed hall building works.
The Cafe Chad Christmas Special event was held at St Chad's Church Hall, from 9:15am-12:15pm on Wednesday 8th December. There was table sales, cake and drinks to celebrate the new windows generously funded by the BIFFA Award.
Many people within the parish supported the charity HELP, this Christmas. HELP is a local the charity which serves the homeless and needy in the Kidderminster area. They operate a night kitchen on a Monday night to serve a hot meal to the homeless and those in need from the Tulip Tree Centre, Castle Road.
We celebrated Christmas with an array of services across the parish and several events including the KEY Christmas party and MessyChurch@Christmas event. We also reflected on the coming of Jesus' brith with our Advent challenge.